Wysokiej klasy Jazz 14 grudnia w Torhaus Nord! Stowarzyszenia agitPolska i Kultur Vor Ort zapraszaja 14 grudnia 2007 do sali Torhaus Nord.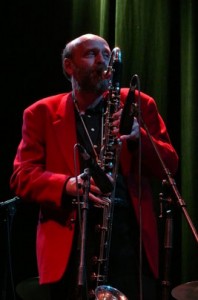 W Gröpelingen wystapi jeden z najlepszych klarnecistów naszego kontynentu: Gadanszczanin – Emil Kowalski.
Ten przedswiateczny koncert nie jest przykladem pierwszej wspólpracy naszych obydwu stowarzyszen. Polskie akcenty kulturalne zanznaczylismy juz tu w uhonoronowanym wieloma nagrodami projektem "Pink House" oraz niedawno zakonczonym przedsiewzieciem "Slady Ognia (Feuerspruen) 2007". Stowrzyszenie agitPolska swiadomie zdecydowalo sie na umieszczenie tak wysokiej klasy konzertu w Gröpelingen. "Te czesc maista zamieszkuja ludzie wywodzacy sie z najrozmaitszych kultur, w tym takze wielu Polaków. "W tej "kolorowej dzielnicy" czujemy sie bardzo swobodnie i dlatego chcielibysmy podarowac maly upominek mieszkancom Bremy ten zamykajacy rok 2007 koncert."
Koncert ten jest jejednym z wielu staran stowarzyszenia agitPolska wspierania promocji artystów oraz bezposredniej wymiany kulturalnej miedzy Polska a Niemcami. "stowarzyszenie agitPolska inspiruje miedzynarodowa wymiane, pokazuje, zmusza do dyskusji, zacha do nawiazywania kontaktów."
Za siedzibe obral sobie agit male pomieszczenie w Lichtchaus´ie. "Tak wykwalifikowany i zmotywowany zespól pracujacy w Bremie, Hamburgu, Warszawie i Gdansku to szczesliwy zbieg okolicznosci dla Gröpelingen" podkresla Christiane Gartner, przewodniczaca stowarzyszenia Kultur Vor Ort. "W ten sposób otwiera sie dla nas wiele nowych mozliwoci spojrzenia na Europe." Tej dobrej wspólpracy zawdzieczamy równiez pierwszorzedny koncert w Torhaus´ie. Od lat Emil Kowalski uwazany jest przez europejska krytyke jazzowa za jednego z najlepszych klarnecistów kontynentu. Jego plyty "Children of Bird" oraz "Emil Kowalski playing Bennie Goodman" pokazaly, z jakim entuzjazmem i wirtuozja ten gdanski artysta interpretuje swoich idoli muzycznych. Jego plyta z bozonarodzeniowym repertuarem zachwyca nowoczesnym spojrzeniem na tradycjonalne utwory. Obok Tria Emila Kowalskiego wystapi równie swietne bremenskie Trio Oliego Poppe z niemieckimi koledami. Cieszymy sie z tej wspanialej mozliwosci zaprezentowac zarówno polskie jak i niemieckie piesni bozonarodzeniowe w jazzowej interpretacji.
Koncert zrealizowany bedzie dzieki wsparciu finansowemu Sparkasse Bremen, Konsulatu Generalnego Rzeczpospolitej Polskiej w Hamburgu oraz miasta Gdanska.