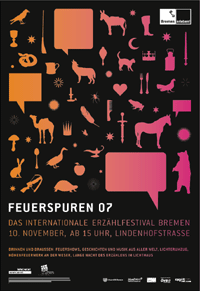 Slady Ognia
10 Listopad 2007 od godziny 15 do pólnocy

IWONA BIGOS, MAGDALENA ZIOMEK-BEIMS
OGÓRKI; LOSOS I KRZEMIE / 15:30
Dopiero w Niemczech zeszly sie drogi Magdaleny z Tychowa nad Baltykiem i Iwony z Wroclawia, ale wtedy od razu kierowane podobnymi intencjami, postanowily zalozyc polsko-niemieckie stowarzyszenie kooperacji kulturowych agitPolska. Teraz kursuja one pomiedzy Hamburgiem, Wroclawiem, Gdanskiem i Gröpelingen, zbierajac coraz wiecej historyjek o zwiazkach polsko-niemieckich. Specjalnie na Slady Ognia przywiozly z Polski ogórki kiszone, lososia, suszona kielbase oraz worek z krzemieniami, które sa przeciez podstawa dobrej wieczornej opowiesci.
O WANDZIE, KTÓRA NIEMCA NIE CHCIALA / 16:00
"Pare tygodni pózniej Wanda, chociaz to dla polskiej kobiety bardzo nietypowe, zdecydowala sie poprosic Rüdigera o reke. Odpowiedz byla zarówno zaskakujaca jak i bolesna: ten mlody Niemiec nie wierzyl w sakrament malzenstwa, a na dodatek niewiele sobie robil z idei wiecznej milosc."

CUDNA / MOJA NOWA OJCZYZNA / 16:30
Fragmenty z nowego zycia bardzo mlodej migrantki. Cudna przyszla na swiat jako córka Wegrów Sugar Bibic i Gercei-Vadasz Cseles w czerwcu 2007 roku we Wroclawiu, ale obecnie mieszka na Neustadt w Bremie. Natomiast w pralni na Gröpelingen ten niemiecko-polsko-wegierski szczeniak oczaruje swoimi opowiesciami i zielonymi oczami duzych i malych sluchaczy.

PAWEL KAROLAK / O MILOSCI I INNYCH PRZYPADLOSCIACH
TRUDNOSCI NIEMIECKO-POLSKIE / 17:00
Magdalena Ziomek-Beims i Iwona Bigos cenia sobie mezczyzn, którzy potrafia pozostac w cieniu. Pawel jest i mily i skromy, dlatego tez zagra w tle na swojej gitarze, kiedy one beda opowiadac o milosci i innych niemiecko-polskich przypadlosciach.
Miejsce: pralnia przy ulicy Lindenhofstraße in Bremie, Gröpelingen
Projekt zostanie zrealizowany dzieki pomocy Konsulatu Generalnego Rzeczypospolitej Polskiej w Hamburgu.
Brema to swiat. Ponad 150 narodowosci mieszka w tym hanseatyckim miescie, ksztaltuje jej historie, tradycje, jezyk oraz muzyke. Stowarzyszenie Kultur-vor-Ort e.V. (Kultura na miejscu) w domu miejskim Oslebshausen stara sie stworzyc z tej róznorodnosci jednosc. Podczas gdy artysci ognia i akrobaci na ulicy Lindehofstraße rozswieca iskrami ciemnosci nocy a dzieci podaza sladami ognia przez zakamarki dzielnicy, mali i duzy bajarze zaprasza do ich cieplych opowiesci o zaginionych krowach, superasnych gansterrapoerach, plotkujacych kurach, kiszonych ogórkach i madrych Hocas. W meczecie, pralni, bibliotece i u fryzjera snia swoje opowiesci o milosci i zlosci, o malych i duzych cudach, o wielkiej tesknocie. Opowiadaja po niemiecku, turecku, polsku, holendersku, grecku, hiszpansku, isladzku, w dolnoniemieckim, madinka i w kiswahili.
Slady Ognia to swieto swiatla dla calej rodziny.
Festiwal Slady Ognia zakonczy tradycyjny pokaz sztucznych ogni nad Wezera oraz dluga noc opowiesci w Lichthausie.